Horizon by upc cablecom
Launch Event / Media-Event
Client: upc cablecom GmbH
Job: Concept, planning and staging of launch event
To celebrate the launch of upc cablecom's new entertainment platform named Horizon, Livingmedia was asked to organize not one, but two events – one for the media, one for the company's business partners and VIP guests.
Following the motto, "Eine Reise zum Horizont – Die Zukunft der Unterhaltung" (A journey to the horizon – The future of entertainment), guests were taken on a multimedial trip across the universe, where they learned that Horizon represents a new dimension in digital TV broadcasting: the convergence of TV, Internet and telephony in a single device. At a media Q&A following the presentation, upc cablecom management presented Horizon's various new features and answered all the questions.
To conclude the event, the guests were given the opportunity to try out Horizon themselves at the futuristic lounge – while being served drinks and snacks by stylish "flight attendants".
And, of course, everything was broadcast/streamed live over the Internet, so that all upc cablecom employees could follow the launch event from their workplace.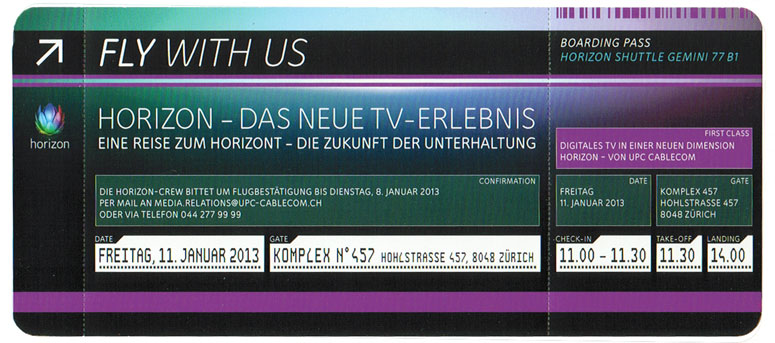 This boarding pass permitted guests to embark on the journey to the Horizon

Here is where the "passengers" were welcomed

The futuristic interior of the "Horizon Shuttle" shortly before takeoff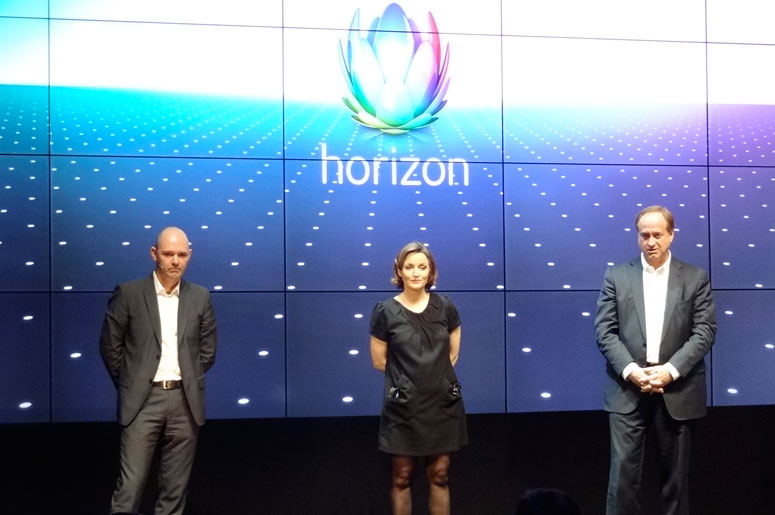 Happy landing: upc cablecom's Koen Verwee and Eric Tveter with presenter Mireille Jaton (center) at the Q & A

Welcome to the Future: The "Horizon Testing Lounge"