We are different.
Agency
Grünbaum Koblasa Livingmedia is a full-service agency developing creative, strategically founded, tailor-made solutions in the areas of live communication and scenography.
Our specialty: We often support solutions that classic agencies are unable to offer. Which, in addition to our many years of experience in the industry, also explains why our portfolio includes so many well-known brands and companies.
Our services are used by companies with or without a classic advertising agency. Quite often, though, we will work closely with advertising agencies.


We are seasoned.
History
1986: Grünbaum Marketing & Promotion AG established
1992: Living Media (Schweiz) AG established
2002: Companies merged to become Grünbaum Koblasa Livingmedia AG
2005: Company taken over by Radek Koblasa
We are organized.
Network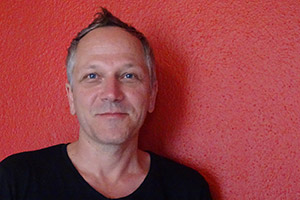 Radek Koblasa
Managing Director,
Scenographer (MAS Szenografie ZHdK)
Since moving to the ZürichParis building in 1999, Grünbaum Koblasa Livingmedia has been a networking company, cooperating closely with in-house graphic designers, copywriters, translators, photographers, architects, etc. in a project-based manner.
In addition, we rely on a standing team of selected freelance collaborators and specialists from various fields who support us whenever we need their services. Many among them have worked for and with us for years, but we also welcome new talent on a regular basis.
This approach has proven very effective to us, and it is highly beneficial to our clients as well. It allows us to be very flexible, so that we can manage even large-scale events of up to 5,000 guests with our team with considerable ease. We assemble a new professional, tailor-made team for each project which is highly motivated and therefore does a great job, from start to finish.
We are versatile.
Services

Live Communication
Corporate Events: Employee events / Anniversary celebrations
Marketing Events: Customer events / Product launches
Promotion: Promotion tours / Sales promotion
Incentives: Team building / Motivation workshops
Conventions: Conferences / Meetings / Seminars


Scenography

Exhibits / Worlds of experience
Exhibition booths / Stage design
Installations / Performances